Garden Launch 2015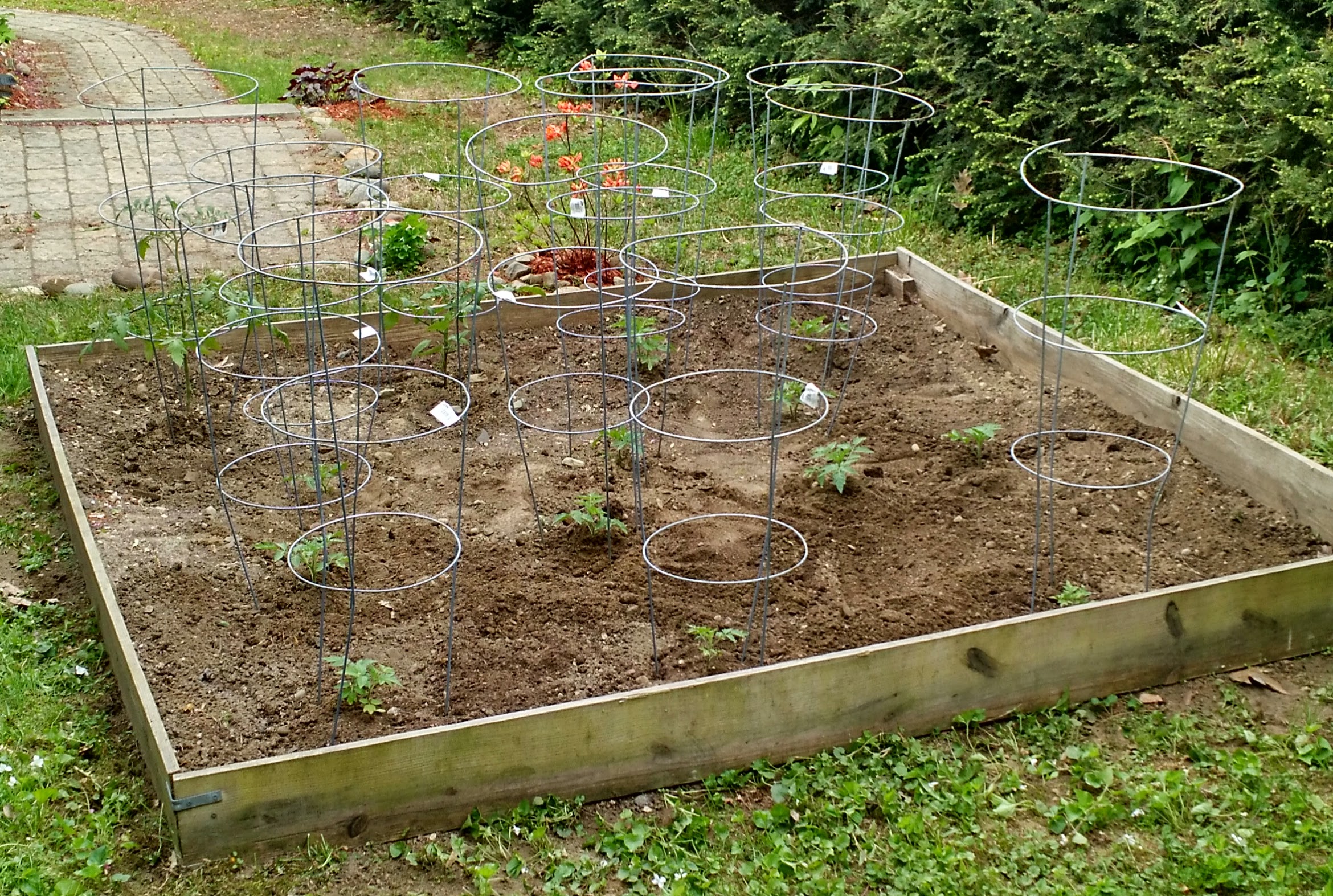 Houston, we have lift-off! It's Memorial Day and I am marking it as the official planting day for my 2015 garden. I had actually planted most of my tomatoes on Mother's Day before getting rained out so the remaining seedlings had to wait for the second go-around. I was worried I would get rained out today as well but it only sprinkled lightly through the morning and felt refreshing. This year I planted all my veggies from seed. If you missed it, you can read about that adventure on my How My Garden Grows post.
Here's how things are shaping up!
Magical Mystery Tomato Tour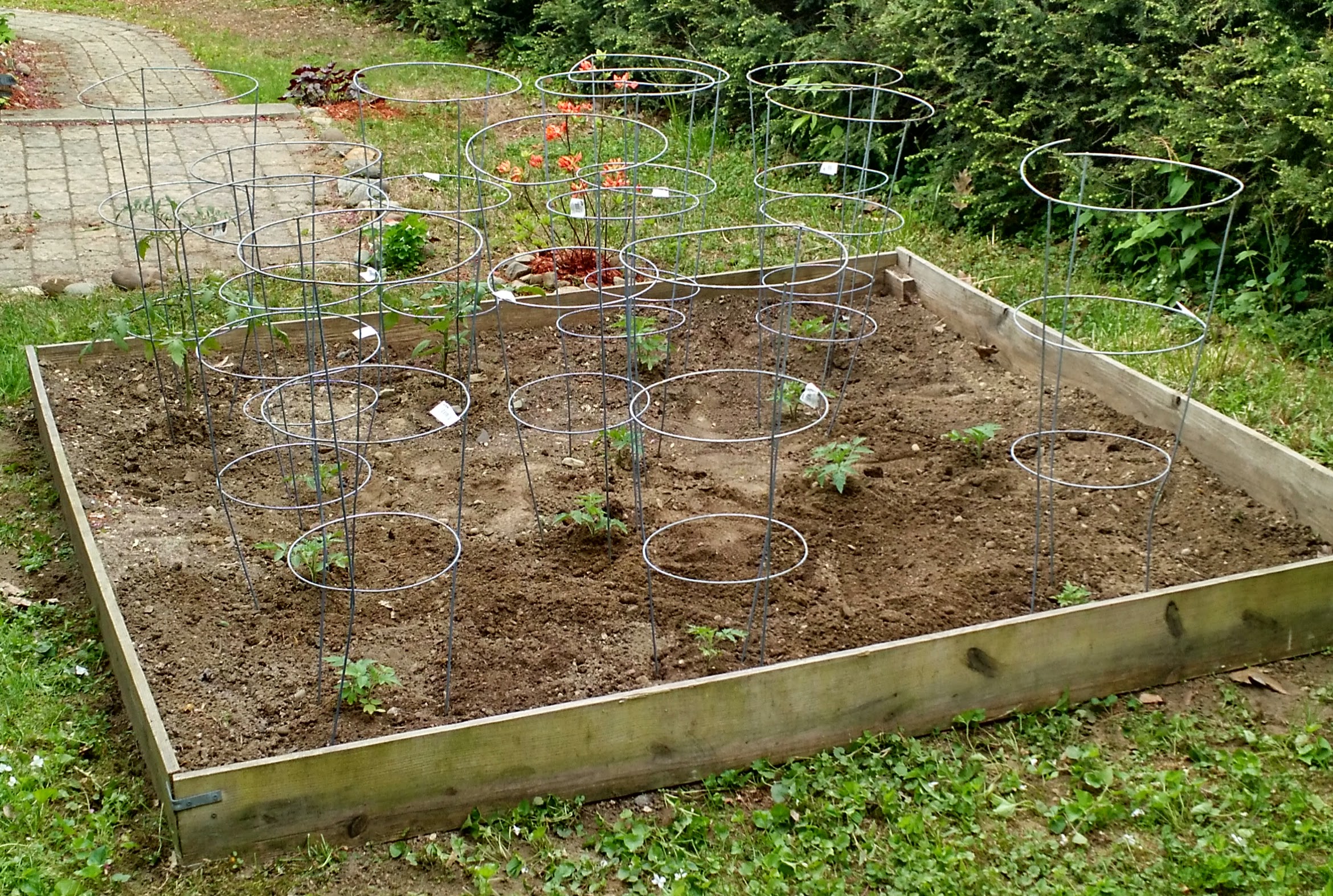 I call this my magical mystery tomato garden because I no longer have a clue what kind of tomatoes are in there. I planted them from seedlings and, with all the running around I did hauling them in and out of the house, I managed to lose track of what was what.
Note to self: give each an every seedling its own identification tag next year because your memory really isn't as magical as you think it is.
I also realized this morning that, if all goes well, I might be in trouble with my tomatoes this year. I was short three tomato cages after planting the bed which means I may have planted three more plants than I did last year. This seems impossible but there you have it. The only other explanation is that I have somehow misplaced three of the tomato cages. I am going to review older photos to see if I can solve the mystery but not right now.
The two larger plants in the photo are for sure Fat Boys. They were presents brought home from Crossroad Farm by my daughter's generous boyfriend. The two of them (Emma and Jake, not the Fat Boys) will be working at the farm together this summer before heading out West for new adventures.
I suppose it wouldn't be a big deal to have planted so many tomatoes if this wasn't happening in addition:
Upside Down Fat Boys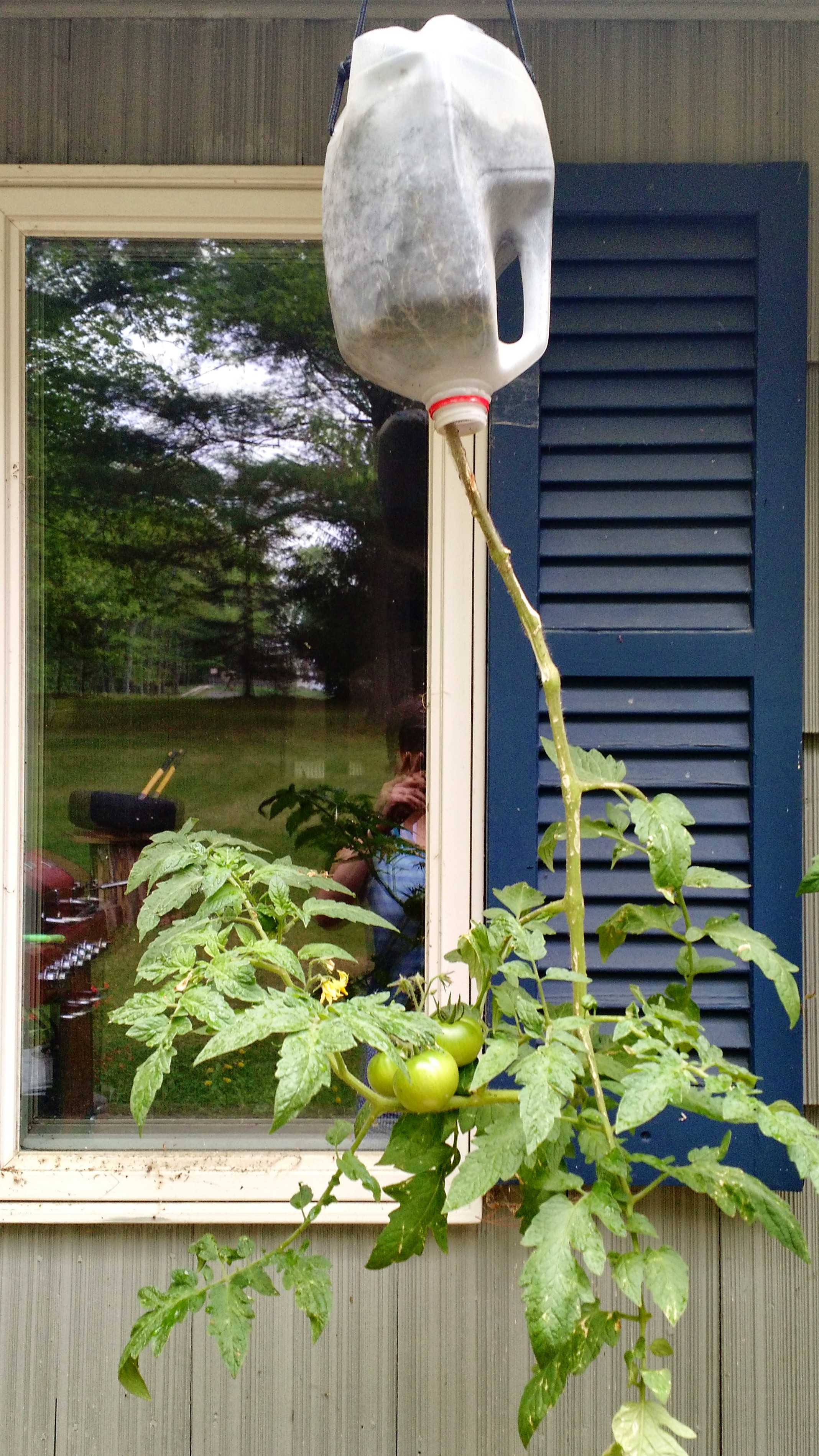 This upside down trick is an experiment that is, so far, proving successful. I haven't met anyone real who has had good luck with this method but there appear to be plenty of virtuals claiming upside down is the only way to go. We shall see.
Can you see how many tomatoes I already have?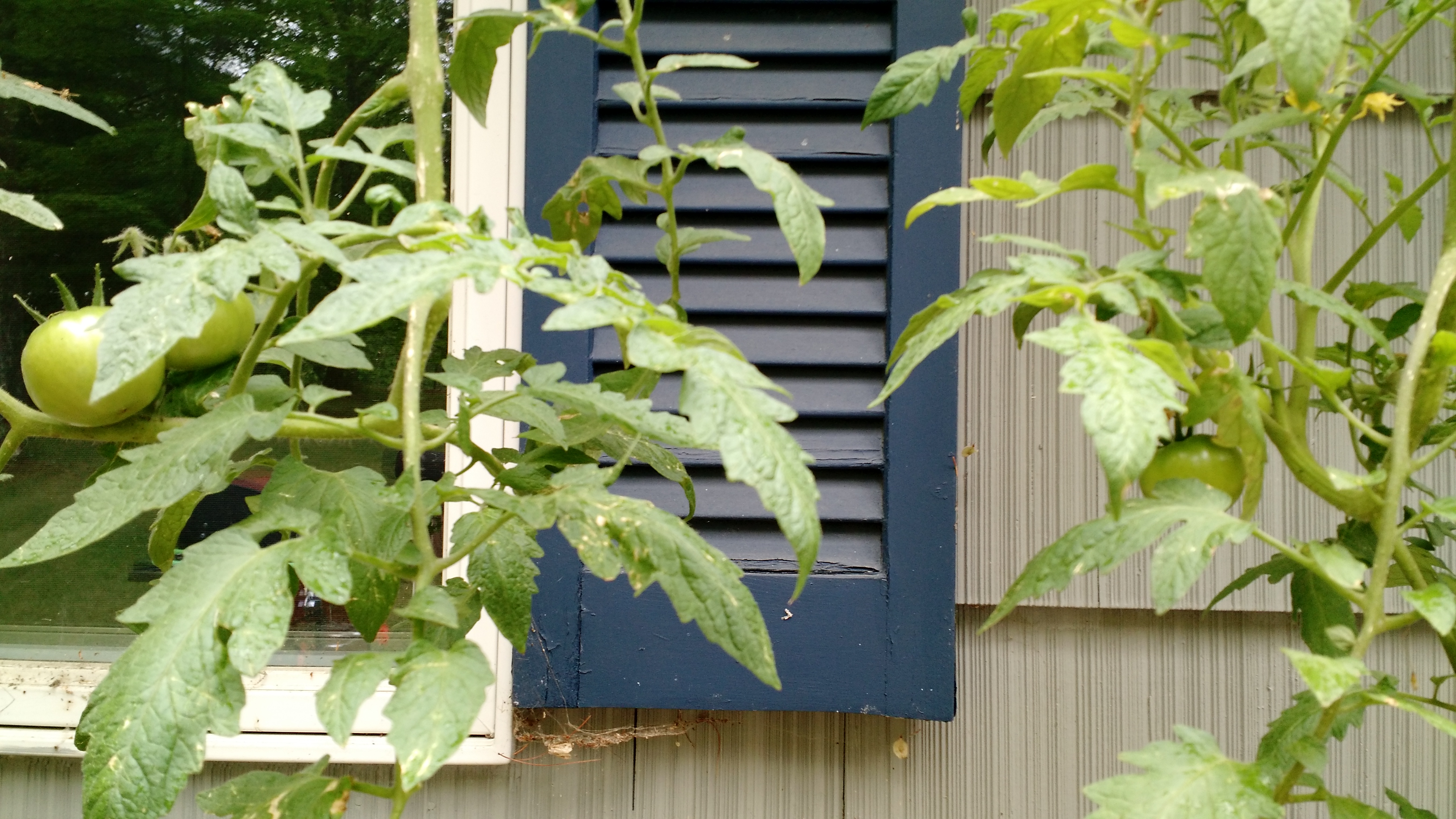 And, if you think I have any self-control at all, think again.
Uhm. Yeah. I have a problem. All of these little guys still need homes. It's even worse than you think. I have considered naming them and am stressed because I feel responsible for their collective livelihood. Let's simply agree to move along and I will talk to my therapist about this the next time I see her. Thanks.
In the meantime:
A Visit to Eastside Garden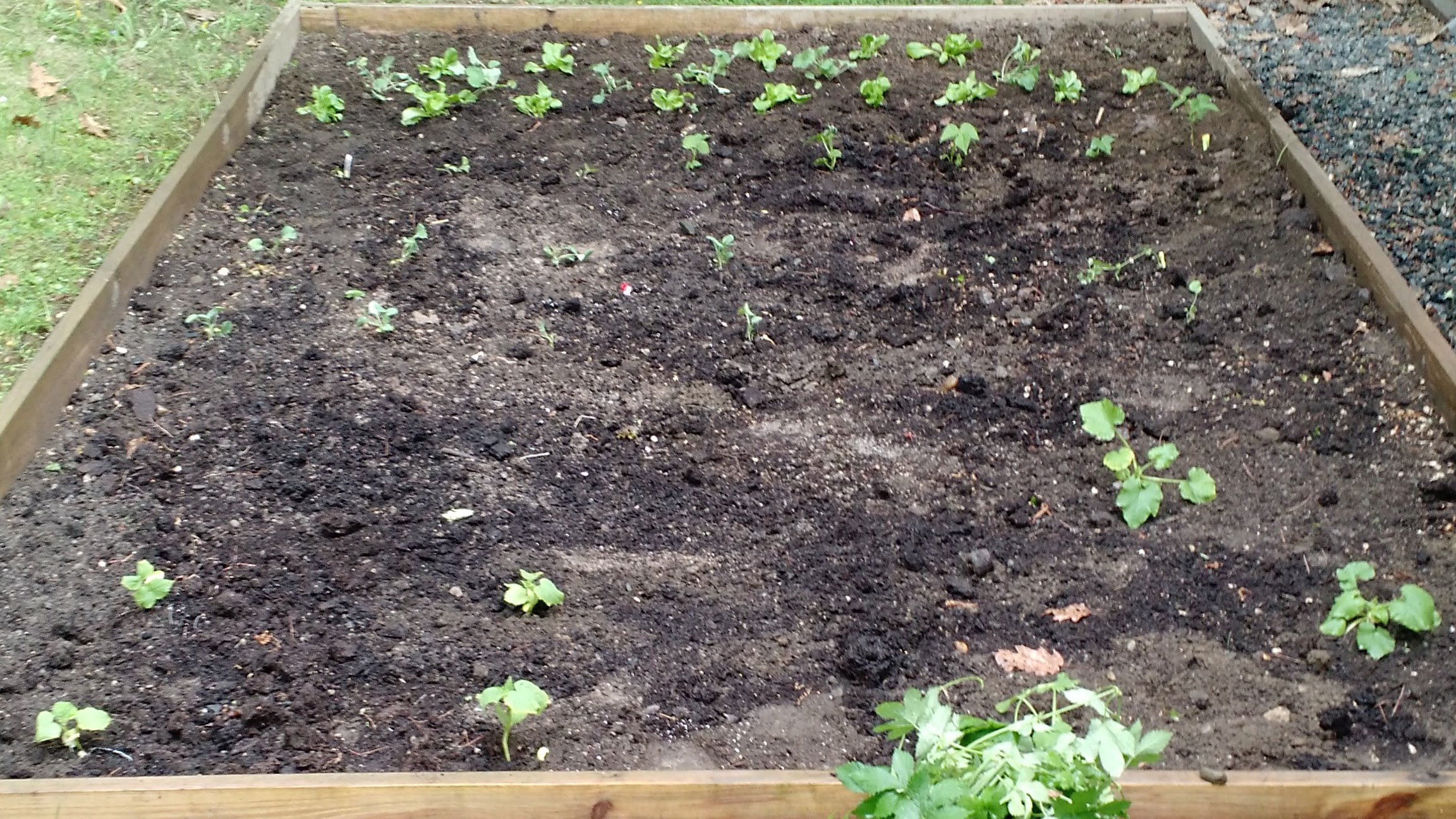 Here we have rows of lettuce mingled with kale, then: eggplant, green beans, peas, broccoli, zucchini, and cucumbers. I am pretty sure I have some space left in there for peppers. Right? I will have to find additional space elsewhere if I want squash, which of course I do. I am also thinking about raising carrots in one of the planters on the back deck. Maybe.
Move along.
So, that's the garden update for today. I have fixed all the leaking hoses around the house, emptied new garden soil into the beds and planters. Started the neverending weeding process and have convinced myself we are past the last frost. I had a bit of a scare with my tomatoes after Mother's Day. There was a frost alert so I had to cover all the plants that had already been planted and haul the rest inside. P told me my house looked like a marijuana growing facility. I think the whole thing was beginning to freak him out. To be truthful, it was beginning to feel a bit like a scene from Jumanji but that is all behind me now.
Here's a panoramic of the backyard:

And here's my garden photo gallery for 2015:
Stay tuned for updates on the back deck garden planters, composting efforts, and a potato growing experiment. Oh my goodness, I just remembered I want sunflowers too! And pumpkins! And...