Slow But Steady Growth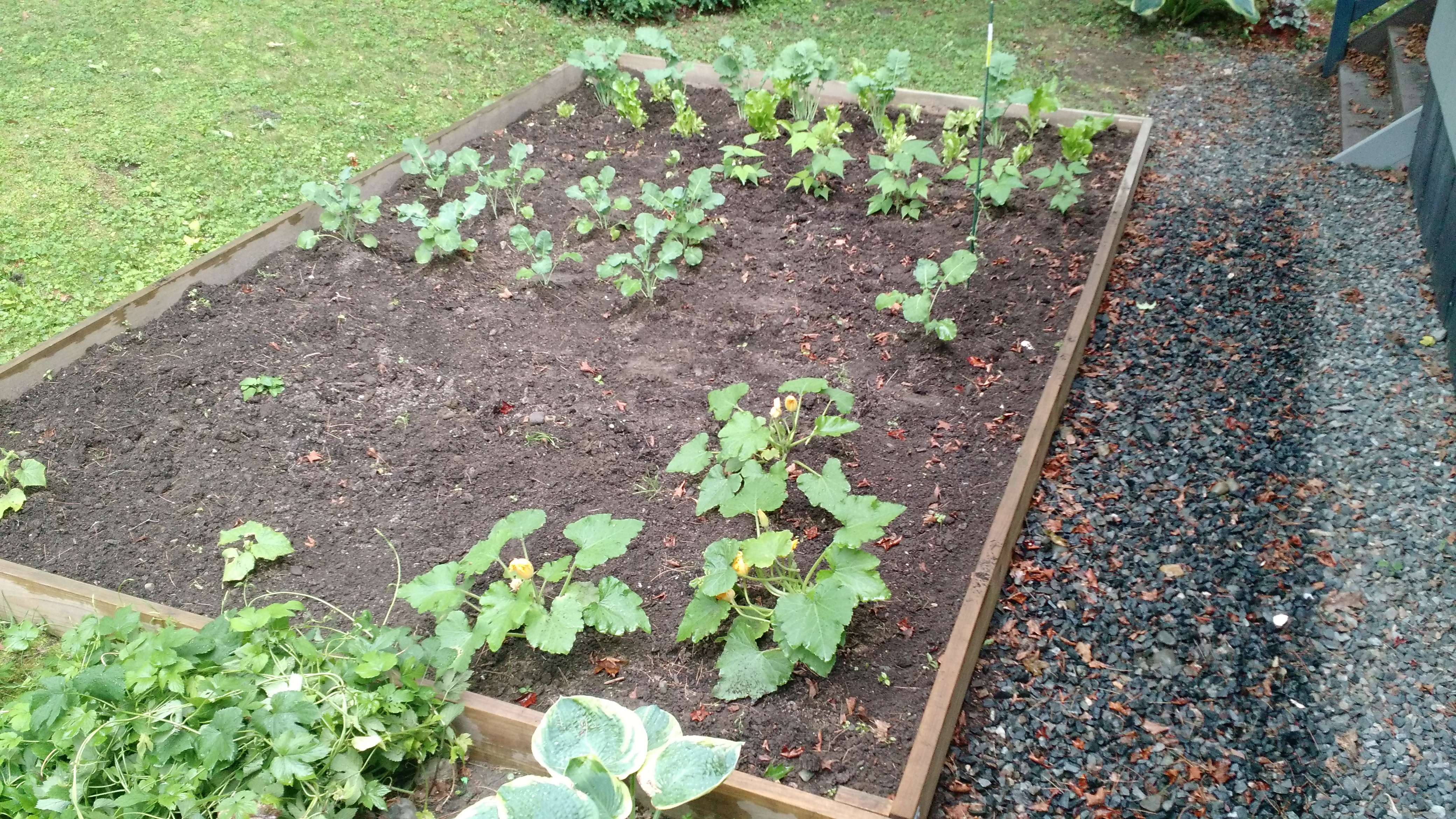 There is slow but steady progress happening in my garden. Thus far, there hasn't been enough sunshine for any of my plants to actually thrive. It's been a colder, wet, gloomy June. Things might change if the sun decides to grace us with her presence for a few solid days. I almost turned my electric blanket on last night but refused based upon principle - it's the end of June for goodness sake!
When I got home from work I debated going for a run or working in the garden. I decided the garden had been neglected long enough and began weeding the eastside garden where lettuce and kale have been taking over. I also planted some flowers, as well as the leeks and parsley my daughter brought home from the farm where she works. It was cathartic. June has presented its own set of unique challenges and gardening allowed me some time to think and to seek peace. Gardening feels a bit like praying, I suppose - like communicating with heaven. It's quiet, peaceful, and you never quite know if your efforts are going to yield the results you expected.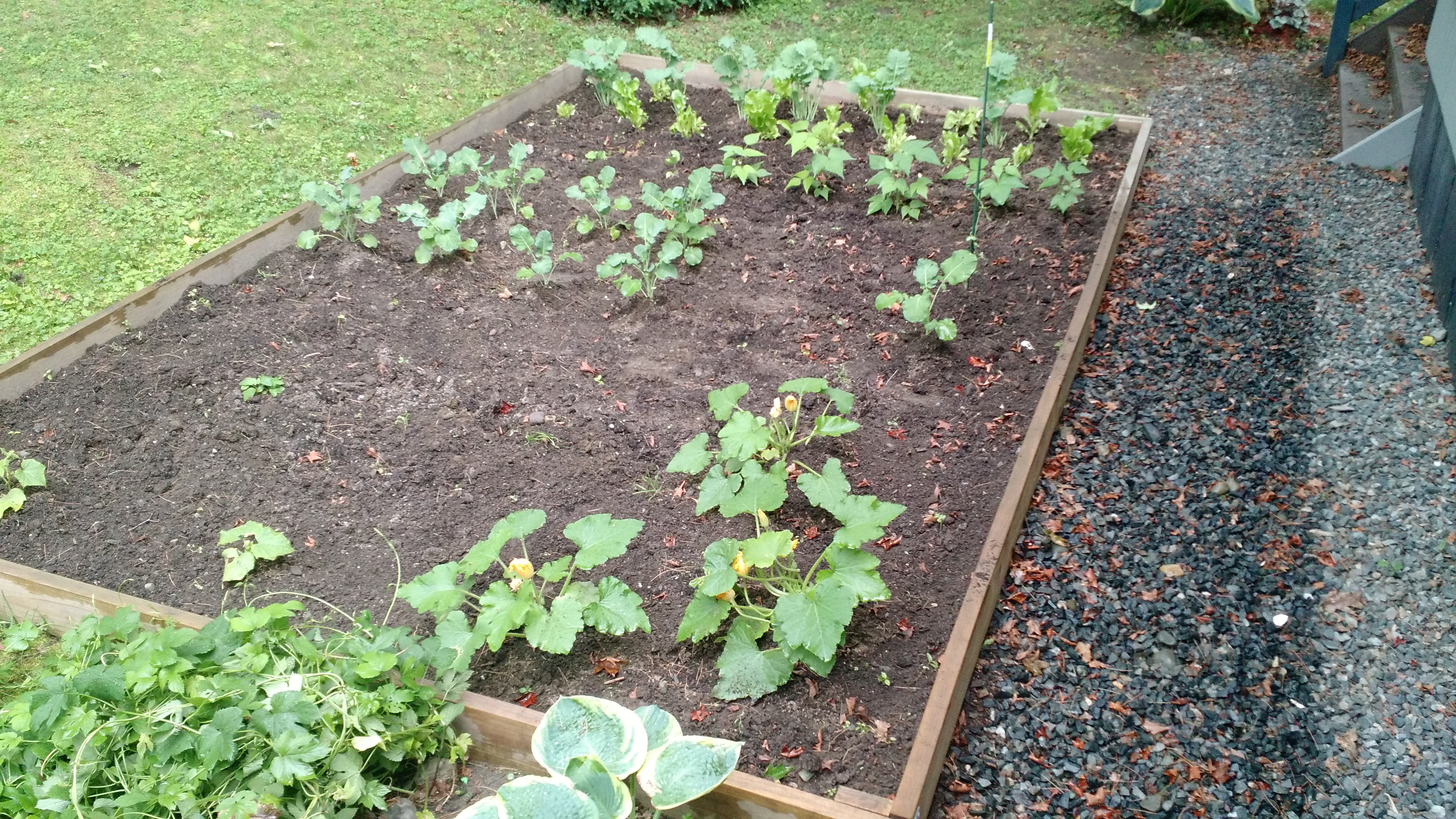 Here's the eastside garden bed after I did some weeding and harvested the overgrowth of lettuce and kale. It's two rows of leafy green lettuce and one row of kale. I have green beans that might need to be picked already! My eggplant is definitely struggling. The broccoli is doing about the same as it did last year so I am not worried yet. I have ONE single pea plant. One. Growing peas from seed didn't go well for me this year. I am learning. My zucchini seems to be doing okay but only two of my cucumber plants survived and are struggling. I may go pick up some additional plants to fill in the empty areas.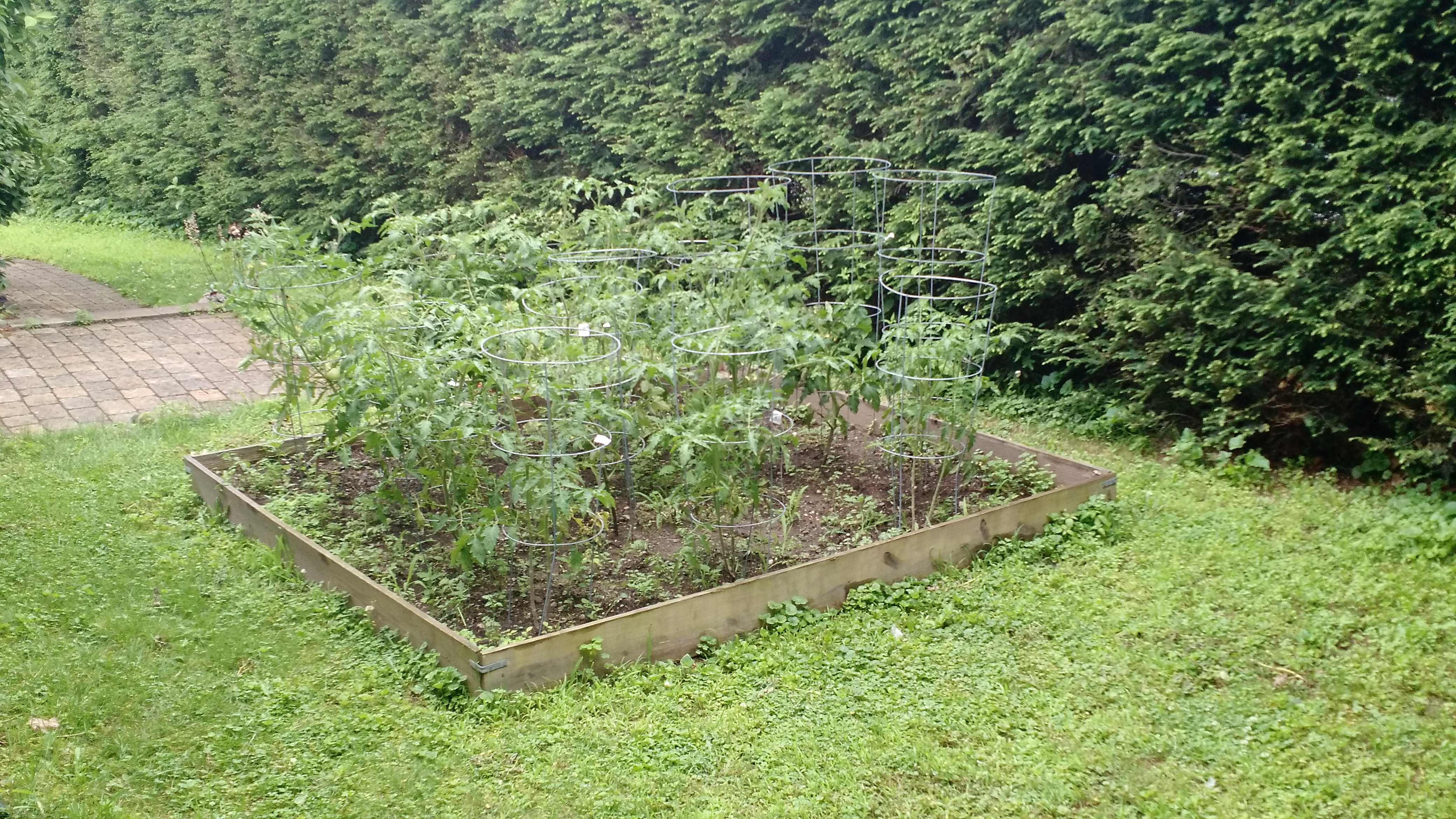 Here is the tomato garden that still needs weeding. I have been spending my time routing the branches and plucking armpit overgrowth. I ran out of time today but on the next nice day I will go get the weeds out. It feels super to know I planted all of this from seed. It feels less cool that there hasn't been enough sun to give them a fair chance.
A month ago I gave three of my tomato plants to P and he planted them in pots down in Manchester where the sun has been shining a bit more often. His plants are now seriously out of control reminding me of something you'd see in a Jack and the Beanstalk movie. We actually had to tie them up so they could support their own weight. No. I am not jealous. It's amazing what a little sun can do.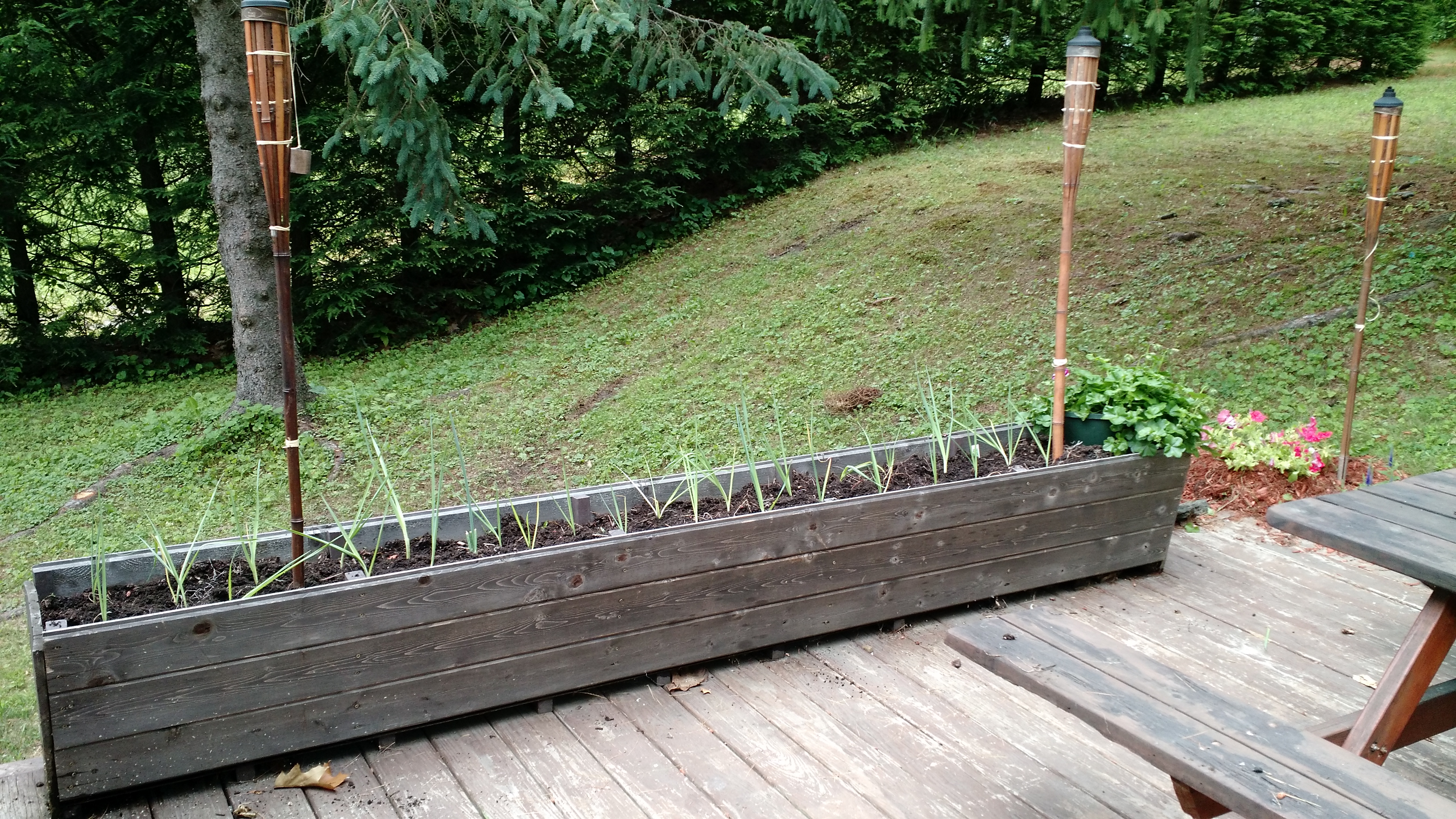 I don't think I have ever grown leeks before. If I did, it's been wiped from my memory which means it probably wasn't successful. I absolutely love leeks and never buy them because they are so expensive at the grocery store. My daughter brought home a few containers of Megaton Leeks so I dedicated this planter to them exclusively. At the end of the bed is the geranium plant that has finally decided to flower once again.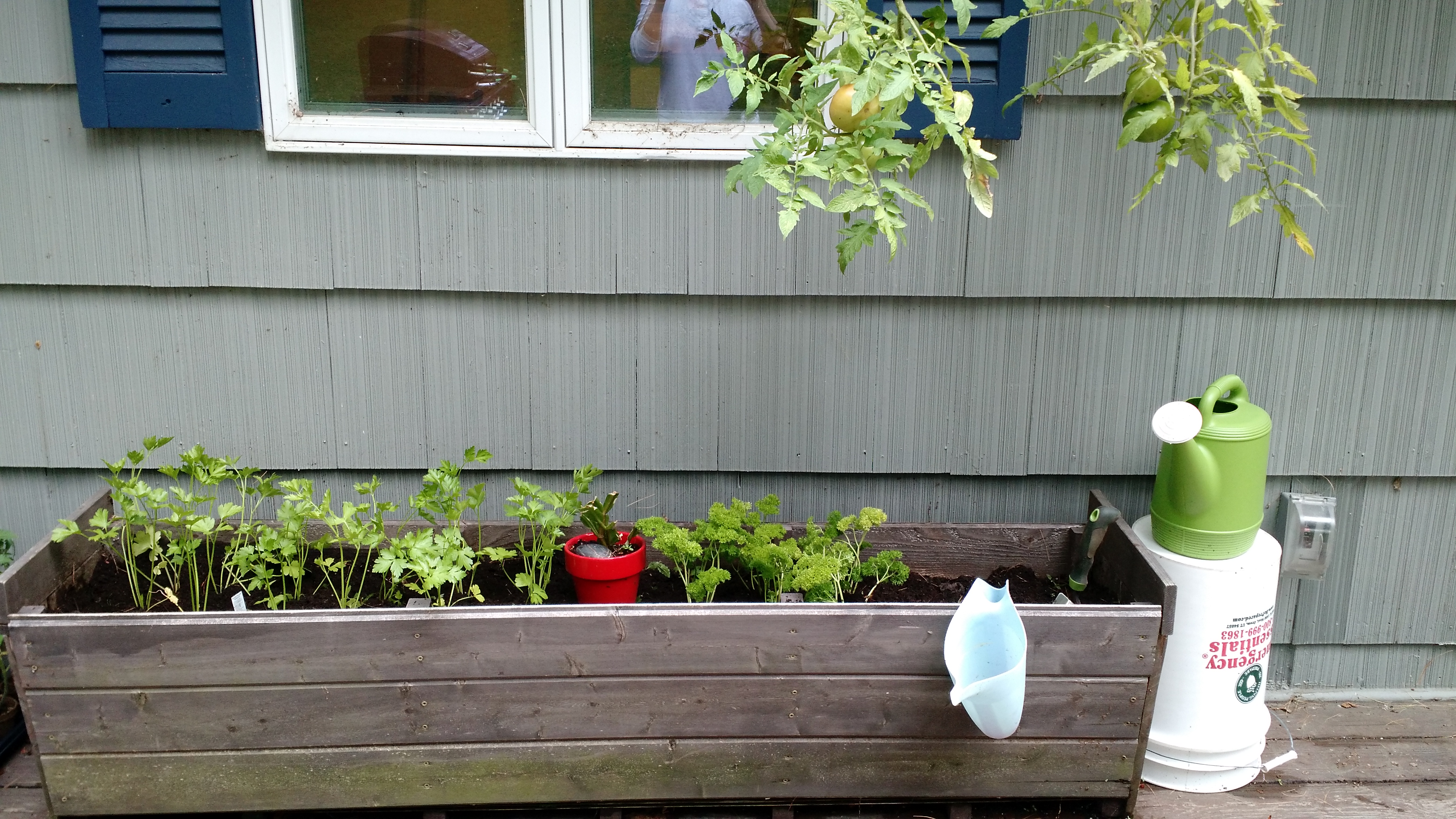 Here's some flat leaf and curly leaf parsley my daughter dropped off. I only know what it is because she told me. I am not certain what I will do with it. I think the curly stuff is for decorative purposes so maybe I will get fancy this summer. Ignore the red pot in the middle. It is a struggling Christmas Cactus cutting. It's healthy partner is in the house. I was going to throw this one away but I lost heart and have decided to see if it can beat the odds with a little company in the outdoors.
The hanging tomato plants are still hanging in there. It's hard to tell if they are doing well because nothing is getting enough sun to make a fair assessment. I have already had to throw out one tomato from the hanging plants and two from the garden bed plants because they are rotting before turning ripe. Sort of depressing. A good dose of sunshine would go a long way right now. Have I mentioned we need a bit more sun?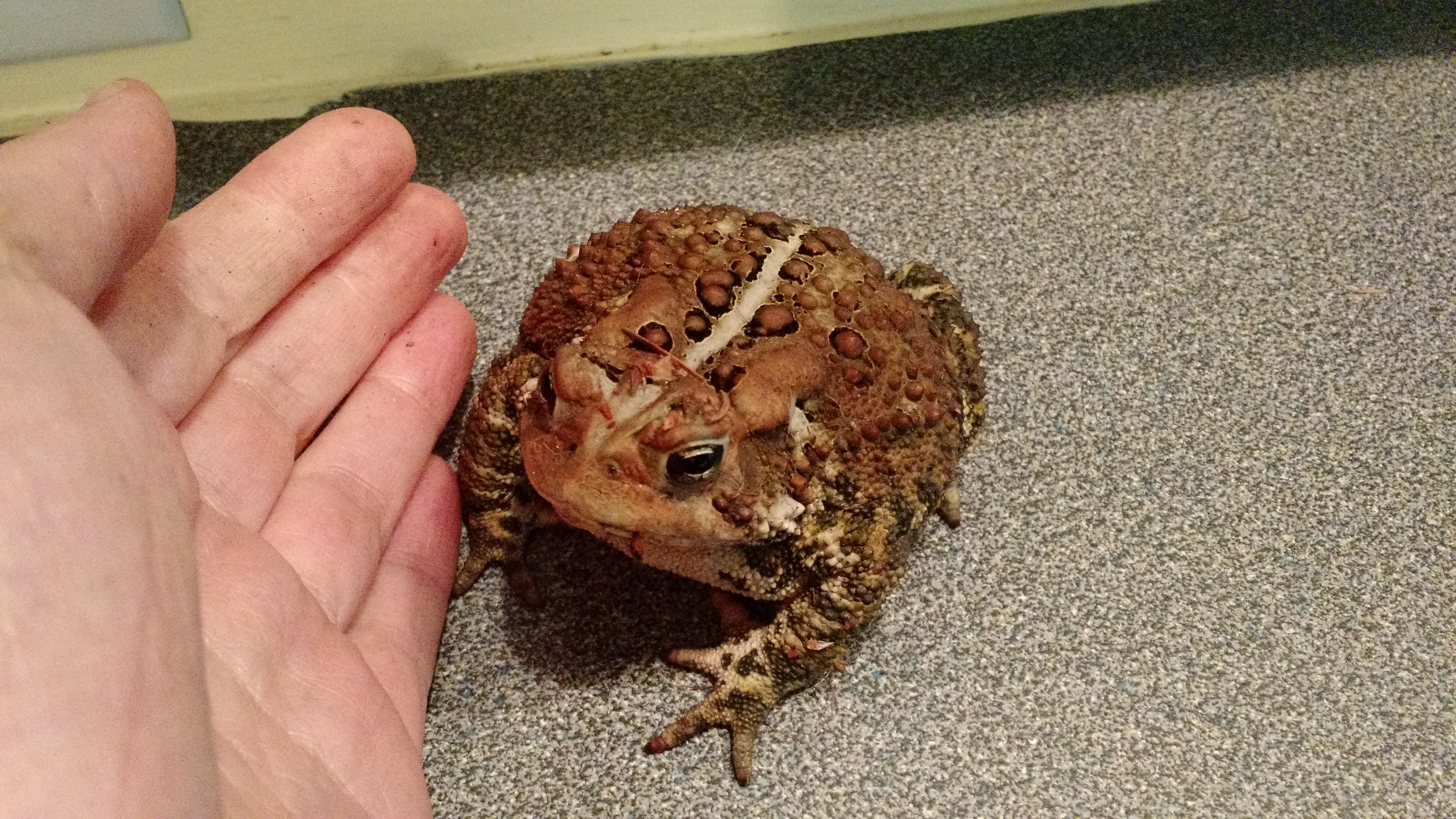 While I was planting I found a little friend. He was so cute I brought him inside to get my camera for a quick photo shoot. We had a nice chat together. I explained about the cats and apologized for all the climate change crap. He was good natured about it. We both had things to do but promised to chat again soon.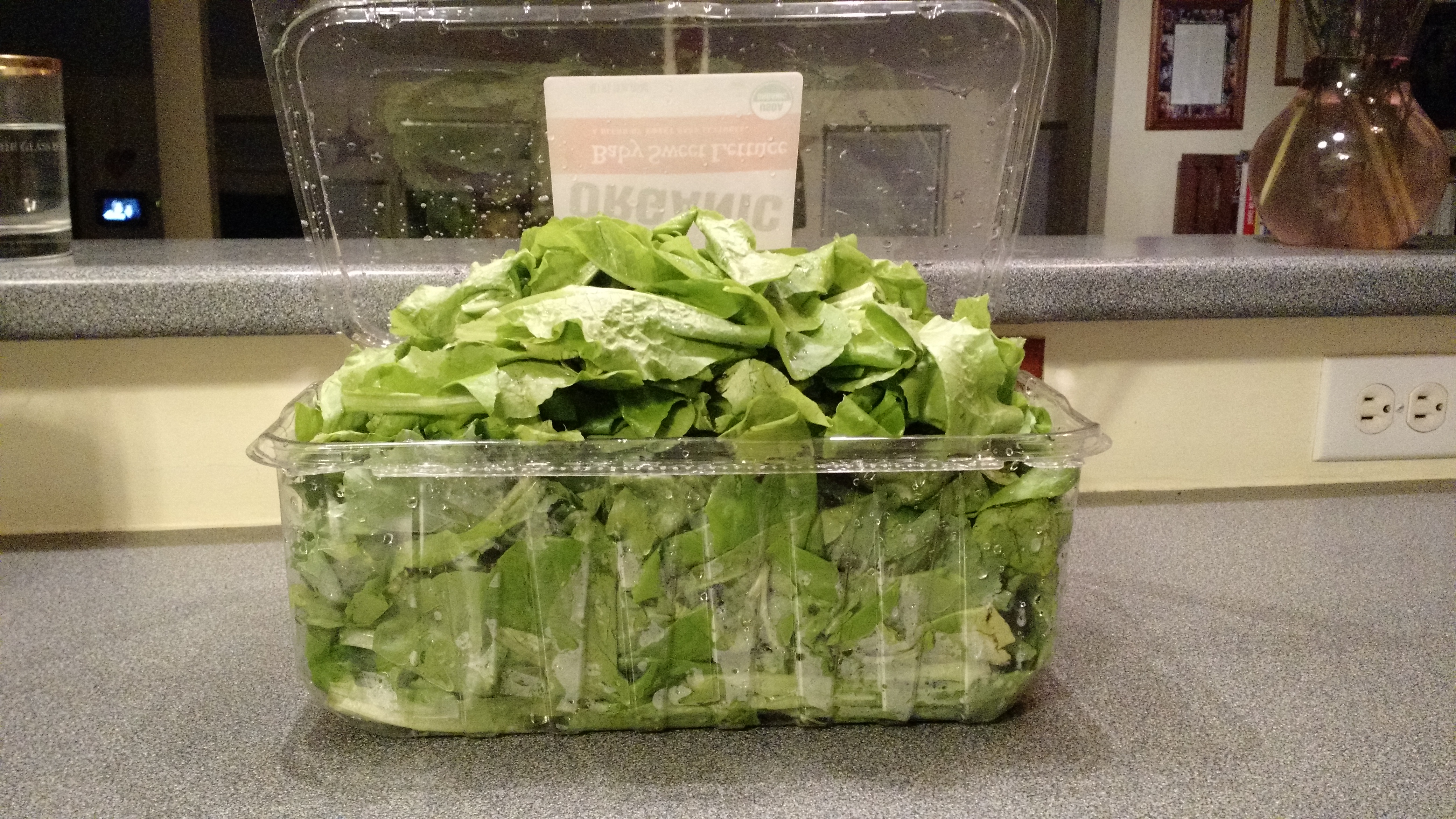 I saved this container from the grocery store for my lettuce harvest. This is the mixture of leaf lettuce and kale I cut today. It took quite awhile to wash it all. Looks like I will be eating a lot of lettuce over the next few days. It tastes very good! I am proud of myself for growing all this stuff from seed this year.
That is the garden update for now. Slow but steady growth. I am so grateful to live in a home that allows me to have these types of experiences.